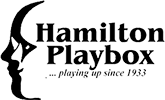 Auditions for The Witches will be held at Riverlea Theatre on 22 January from 1pm.
The Witches is based on the story by Roald Dahl, with stage adaptation by David Wood. The story starts just north of Oslo when the boy is orphaned and goes to stay with his Grandmother. She tells him about the history of witches.
The boy and Grandma go on holiday to Bournemouth on the coast of England and that is where the boy meets Bruno and their fate is sealed. They are staying at the Hotel Magnificent where the Annual General Meeting of the Royal Society for the Prevention of Cruelty to Children is being held.
Parts available are:
FEMALES
Grandmother - Lovely role for an older woman
Grand Witch - Lead role. Tall Statuesque - any age
Witch One - Any age, some dialogue
Witch Two - Any age, some dialogue
Maid/Witch Act II - Any age, some dialogue
Mrs Jenkins - Mother of Bruno
3 or 4 other Witches - One of these may be the filmed for a storytelling segment. One of these will be the tree witch
All have some dialogue. Need to be dexterous with quick change of masks
MALES
Boy - Gentle, lead role - becomes a mouse
Bruno - Plumpish, tough guy - becomes a mouse
Lawyer/Head Waiter - Lovely cameo roles. Head Waiter needs to be able to move
Sailor/Head Chef - Another lovely cameo role. Needs to be able to move
Doctor/2nd Chef - Yet another cameo role. Needs to be able to move
Doorman - And another cameo role. Needs to be able to move
Mr Jenkins - Brash, any age
Frog - Voice only probably one of the male actors
To make an audition please email This email address is being protected from spambots. You need JavaScript enabled to view it., with the role and time you would like. You will receive a return email with your audition piece and confirmation of time.