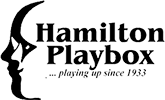 Happening: 18 March 2017
Hamilton Playbox are hosting a Directors Workshop to be held on Saturday 18th March. It involves a morning session, a break for lunch (provided) and then an afternoon session. To enrol for the workshop please state your name, experience eg. never directed, directed less than 10 productions or more than 10 and contact details in an email to This email address is being protected from spambots. You need JavaScript enabled to view it. (or reply to this email). The cost of the Directors Workshop will be $10 for Playbox Members and $15 for anyone else who would like to attend. This fee will cover the theatre hire, travel and lunch expenses.
Participants need to bring one object – anything will do; the task will be that someone else needs to direct using this object (all will be explained later); and you will direct using someone else's!
Steven Arnold has a BA in drama, LTCL and LSB in speech and drama, currently chair of Theatre New Zealand.

He has an interest in directing as storytelling as key to our lives, and communication. By day he is a school teacher (Principal / lecturer too) and loves the idea that story telling is the heart of directing. Steven has engaged with over 50 community theatre productions; from technical, devising, writing, directing, acting, singing, dancing and so on.
Steven has received a TNZ scholarship for directing, and has been awarded for acting and performance.
It should be fun. We will be directing each other, and workshopping and having cups of tea.
Participants might be new to directing – and very keen, or a seasoned hand seeking some new inputs.
For those wanting to stay on Hamilton Playbox is also having a fun quiz night in the evening. There will be a small cover charge of $2 per person for the quiz night.

Directors Workshop registration form