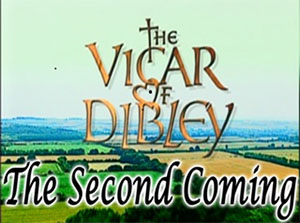 Happening: Sunday 8th July 2018
The Vicar of Dibley – The Second Coming
Directed by Jane Barnett
Performing from 13-27th October 2018.
More comic madness centred around a boisterous female minister who comes to serve in an eccentric and conservative small town's church.
The following cast members are required.
(NB some roles are already filled by previous cast members from the Vicar of Dibley season in 2015)
David Horton - Chairman of the Parish Council (50plus)
David is one of those people who enjoys being in charge. He's a Cambridge educated, upper-class.
Hugo Horton (in his 30s)
Poor Hugo is the veritable puppet of his controlling father.
Jim Trott (40plus)
Jim has a very unfortunate stutter, insofar as he precedes almost every statement with "No, no, no, no, no..."..
Plus some minor roles
Mrs Tinker - Alice's mother (40-70 years)
Mary Tinker - Alice's sister (20-30 years)
Further character information can be found on
http://www.comedy.co.uk/guide/tv/the_vicar_of_dibley/characters/
Vicar of Dibley The Second Coming features three acts:
The Easter Bunny: With Lent approaching Geraldine suggests that everybody give something and contribute a pound to charity.
The Christmas Lunch Incident: Geraldine is so popular that everybody wants her around for Christmas dinner, so she will not be alone – Jim and Frank, Alice and her family, the Hortons and even Owen turns up.
The Engagement: Alice complains that Hugo has yet to kiss her so Geraldine urges her to take the initiative.
Please contact Jane Barnett This email address is being protected from spambots. You need JavaScript enabled to view it. for an audition time and script pages.