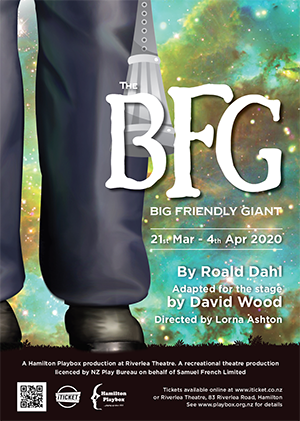 Season: 21 March ~ 4 April 2020 CANCELLED
To our members, and friends of Hamilton Playbox.
Due to the fast changing and evolving situation with the global COVID 19 pandemic, it is with heavy hearts that we have made the decision to cancel our production of The BFG. This decision was not made lightly, but we feel that it is the right decision under the circumstances.
I would like to offer my sincere thanks to the team for the tremendous effort that went into this production, from our production team and backstage crew to the cast who have put so much work and time into creating a high-quality show and thrown themselves into it from the very start. You have created something remarkable, and everyone involved should be proud. I only regret that you are not given the opportunity to share this with the audiences you deserve.
I would also like to offer special thanks to Lorna Ashton for her work on directing this production.
We wish you all health and happiness during these uncertain times.
Kind regards,
Jason Wing
President, Hamilton Playbox Repertory Society Inc.
The BFG (The Big Friendly Giant) written by Roald Dahl and adapted for the stage by David Wood; a recreational theatre production licenced by NZ Play Bureau.
The play starts at Sophie's birthday party when the surprise entertainers do not turn up. Sophie and her family and friends decide that the entertainment for the evening will be to perform The BFG, her favourite book.
Sit back and enjoy this exciting production with all the best bits of the book on show. A play for all the family.
You can reserve your seats at iTicket.co.nz by clicking here.