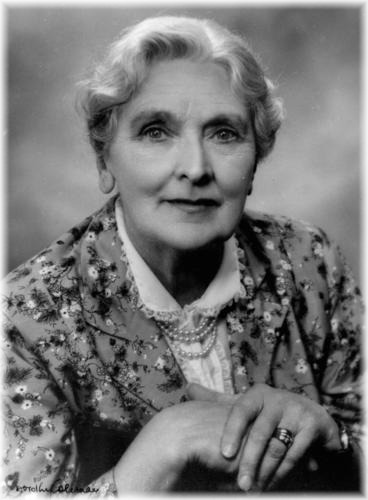 The photo to the right is Dame Sybil Thorndike in 1943. She was the first patron of Hamilton Playbox. She wrote a dedication for the first production in 1933...
"We are realising that the Amateur Theatre is as vital a part of the Theatre proper as the Professional. The Amateur can do more than just keep the flag flying until times are better and the Professional can be more in evidence; the Amateur can adventure - find new paths - new methods of working - new writers - new ways of producing old writers. Since they do not have to depend on the Stage for their bread and butter, they can afford to leap beyond what the average commercial theatre audience will accept - a thing which is too often disallowed professionally.
The Little Theatre movement has proved itself an adventurous and courageous one - that is why we adventurers from the professional side applaud their efforts. This movement has kept alive in so many British countries the real live Theatre we serve - and that deserves the salute of all pioneers! To the Playbox Adventure, Good Luck!"
- Sybil Thorndike
"To the Playbox Adventure, Good Luck!"... more than 80 years later the Good Luck is still holding as the Playbox Adventure continues to this day.
The table below list those that helped in keeping the Playbox Adventure alive over the last eight decades.
| | | | | | | |
| --- | --- | --- | --- | --- | --- | --- |
| Year | Patron | President | Vice-President | Vice-President | Secretary | Treasurer |
| 2021 | Nicolas Wells | Jason Wing | Glen Mathews | | Lorna Ashton | Lee Owens |
| 2020 | Nicolas Wells | Jason Wing | Glen Mathews | | Helen Eyeington | Lorna Ashton |
| 2019 | | Lee Owens | Jason Wing | | Helen Eyeington | Lorna Ashton |
| 2018 | Elisabeth Easther | Lee Owens | Jason Wing | | Charlotte Mann | Lorna Ashton |
| 2017 | Elisabeth Easther & Michael Easther | Lee Owens | Jason Wing | | Neila Blackmore | Lorna Ashton |
| 2016 | Elisabeth Easther & Michael Easther | Lee Owens | Jason Wing (from November) | | Neila Blackmore | Lorna Ashton |
| 2015 | Dan Blackmore, Elisabeth Easther & Michael Easther | Lee Owens | Ron Dalton | | Ann Williams | Lorna Ashton |
| 2014 | Dan Blackmore, Elisabeth Easther & Michael Easther | Mark Perry | Lee Owens | | Ann Williams | Lorna Ashton |
| 2013 | Dan Blackmore, Elisabeth Easther & Michael Easther | Greg Hack | Lee Owens | | Liz Sheppard | Lorna Ashton |
| 2012 | Dan Blackmore, Elisabeth Easther & Michael Easther | Greg Hack | Lee Tulloch | | Lee Owens | Lorna Ashton |
| 2011 | Dan Blackmore, Elisabeth Easther & Michael Easther | Greg Hack | Lee Tulloch | | Lee Owens | Lorna Ashton |
| 2010 | Dan Blackmore, Elisabeth Easther & Michael Easther | Mark Perry | Greg Hack | | Ben Corcoran, Charlotte Isaac (from July) | Lorna Ashton |
| 2009 | Al Williamson & Dan Blackmore | Mark Perry | Charlotte Isaac | | Charlotte Isaac | Lorna Ashton |
| 2008 | Al Williamson & Dan Blackmore | Mark Perry | Joy Shewan | | Charlotte Isaac | Lorna Ashton |
| 2007 | Al Williamson & Dan Blackmore | Joy Shewan | Mark Perry | | Neila Blackmore | Lorna Ashton |
| 2006 | Al Williamson | Dan Blackmore, Joy Shewan (from August) | Joy Shewan, Maree Wilkins (from August) | | Neila Blackmore | Lorna Ashton |
| 2005 | Al Williamson | Dan Blackmore | Joy Shewan | | Neila Blackmore | Lorna Ashton |
| 2004 | Al Williamson | Dan Blackmore | Lauren Scott | | Neila Blackmore | Frank Carter |
| 2003 | Al Williamson | Adrianne Clothier | Lauren Scott | | Neila Blackmore | Frank Carter |
| 2002 | Al Williamson | Bruce Martin, Adrianne Clothier (from June) | Adrianne Clothier, Steve Grounds (from June) | | Chris Martin, Neila Blackmore (from June) | Christine McGovern, Adrianne Clothier (from April) |
| 2001 | Al Williamson | Bruce Martin | Bridget Murphy | | Nicloas Wells | Christine McGovern |
| 2000 | Al Williamson | Kerry Murphy | Diane Brown | | Nicolas Wells | Nicolas Wells |
| 1999 | Al Williamson | Royce Barclay | Diane Brown | | Bruce Martin | Nicolas Wells |
| 1998 | Royce Barclay | Dennis Ralph | Bruce Martin | | Mark Perry | Nicolas Wells |
| 1997 | Royce Barclay | Dennis Ralph | Julianne Boyle | Richard Sheridan, Diane Brown (from August) | Elizabeth Hunter | Sonia Evans |
| 1996 | Royce Barclay | Dennis Ralph | Julianne Boyle | Richard Sheridan | Sonia Evans | Nicolas Wells |
| 1995 | Royce Barclay | Lynda Gemmell | Diane Brown | | Sonia Evans | Nicolas Wells |
| 1994 | Royce Barlcay | Lynda Gemmell | Diane Brown | John Stewart | Jeannie Townsend | Nicolas Wells |
| 1993 | Royce Barclay | Lynda Gemmell | Diane Drown | Sandra McDonald | Christina Brown | Gareth Ruck |
| 1992 | Jock McLachlan-Barnes | Dennis Ralph | Diane Brown | Mel Beetham (G Ruck from June) | Patricia Ratuszny | Michelle Durrant |
| 1991 | Jock McLachlan-Barnes | Dennis Ralph | Diane Brown | Mel Beetham | John Stewart, then Patricia Ratuszny | Michelle Durrant |
| 1990 | Bill Dillon | Dennis Ralph | Diane Brown | Tony Whitehouse | John Stewart | Steven McMurray |
| 1989 | Bill Dillon | Tony Whitehouse | Diane Brown | Chris Cooke | John Stewart | Linda Whitehouse |
| 1988 | Bill Dillon | Peter Hollister | Chris Cooke | Richard Blincoe | Royce Barclay | Pat Julian, Jean Greedy??????????? |
| 1987 | Bill Dillon | Grant Waghorn | Chris Cooke | Peter Hollister | Jean Greedy | Dinky Nugent |
| 1986 | Bill Dillon | Peter Hollister | Chris Cooke | Grant Waghorn | Dinky Nugent | Jean Greedy |
| 1985 | Bill Dillon | David Gibson | Chris Cooke | Geoff Lawn | Poppy Wheatley | Jean Greedy |
| 1984 | Barbara Minogue | Tom Hawley | Michael Houltham | | Barbara Willson, Poppy Wheatley (from July) | Peter Lowe, Jean Greedy (from July) |
| 1983 | Barbara Minogue | Royce Barclay | Chris Cooke | Ken Sandford | ? | Jean Diwell |
| 1982 | Barbara Minogue | Royce Barclay | Fiona Perry | Peter Hurford | Jean Diwell | Jean Diwell |
| 1981 | Barbara Minogue | Royce Barclay | Mike Casey | David Reid | Jean Diwell | Bill Nugunt |
| 1980 | Barbara Minogue | Royce Barclay | Don Kjestrup | David Reid | Jean Diwell | Bill Nugunt |
| 1979 | Barbara Minogue | Royce Barclay | David Reid | Chris Cooke | Jean Diwell | Bill Nugunt |
| 1978 | Barbara Minogue | Ron Smith | Dr Bernard Hyne | | Jean Diwell | Mac Campin |
| 1977 | Barbara Minogue | Ron Smith | Pat Holloway | Dr Bernard Hyne | Jean Diwell | Mac Campin |
| 1976 | Barbara Minogue | Peter Drake (to July), Ron Smith | Ron Smith | Joyce Raethel | Elise Neil | |
| 1975 | Barbara Minogue | Peter Drake | John Campion | Ron Smith | Joyce Raethel | Elise Neil |
| 1974 | Barbara Minogue | Jean Greedy | Peter Drake | Danny Mateer | Mac Campin | Elise Neil |
| 1973 | Barbara Minogue | Jean Greedy | Henry Bishop | Danny Mateer | Mac Campin | John Campion |
| 1972 | Barbara Minogue | Derek Wooster | Mac Campin | Bligh Pickering | Dawn Tucker | John Campion |
| 1971 | Barbara Minogue | Derek Wooster | Henry Bishop | Bob Stonyer | Lou Sweeney | John Campion |
| 1970 | Philip Harkness | Mac Campin | Henry Bishop | Derek Wooster | Alan Quartermain & Michael Young | John Campion |
| 1969 | Philip Harkness | John Johnstone | Alice Davies | Julie Stirrup | Jane Clad | Kevin O'Connor |
| 1968 | Philip Harkness | Mac Campin | Alice Davies | Ian Johnstone | Jane Clad | Louise Johnstone |
| 1967 | Philip Harkness | John Johnstone | Dick Waddington | Al Williamson | Mac Campin | Roy Bonnell |
| 1966 | Arthur E Manning | John Johnstone | Patricia Dixon | David Reid | Mrs DM Cook | Roy Bonnell |
| 1965 | Arthur E Manning | Mac Campin | Barbara Minogue | Johnnie Johnstone | Mrs DM Cook | Roy Bonnell |
| 1964 | Arthur E Manning | Tui Marshall | Barbara Minogue | Mac Campin | Pam Collingwood | Jeff Dixon |
| 1963 | Arthur E Manning | Tui Marshall | Barbara Minogue | Mac Campin | Pam Collingwood | Jeff Dixon |
| 1962 | Arthur E Manning | Dick Waddington | Tui Marshall | John Murray | Pam Collingwood | Jeff Dixon |
| 1961 | Arthur E Manning | Dick Waddington | Tui Marshall | John Murray | Pam Collingwood | Jeff Dixon |
| 1960 | Arthur E Manning | John Murray | Tui Marshall | David Reid | Pam Collingwood | Jeff Dixon |
| 1959 | Arthur E Manning | John Murray | Tui Marshall | David Reid | ? | ? |
| 1958 | Arthur E Manning | David Reid | Tui Marshall | Rangi Smidt | Frank Curtin | Roy Bonnell |
| 1957 | Arthur E Manning | David Reid | Tui Marshall | Rangi Smidt | Frank Curtin | Roy Bonnell |
| 1956 | Arthur E Manning | David Reid | Tui Marshall | Al Williamson | John Murray | Ken Cotten |
| 1955 | ? | David Reid | Tui Marshall | Al Williamson | John Murray | Ken Cotten |
| 1954 | Hilda Ross and Ron Braithwaite | David Reid | Bryona Quill | Nita Andrews | Vera Huntington | Ken Cotten |
| 1953 | Arthur E Manning | David Reid | Bryona Quill | Nita Andrews | Vera Huntington | Jack Palmer |
| 1952 | Arthur E Manning | Vi Stephens | Grace Fuller | David Reid | Vera Huntington | Jack Palmer |
| 1951 | Arthur E Manning | Grace Fuller | Dr HE Annett | David Reid | Vera Huntington | Jack Palmer |
| 1950 | Arthur E Manning | Vi Stephens (Linder) | Dr HE Annett | David Reid | Vera Huntington | Grace Fuller |
| 1949 | Arthur E Manning | Vi Stephens (Linder) | Dr HE Annett | David Reid | Vera Huntington | Grace Fuller |
| 1948 | Arthur E Manning | Vi Stephens (Linder) | Dr HE Annett | David Reid | Thelma Evans | Marcus B St James |
| 1947 | Arthur E Manning | Violet Linder | David Reid | Stan Carroll | Thelma Evans | Marcus B St James |
| 1946 | Arthur E Manning | Violet Linder | Mrs P Newland | Bill Blakeway | Thelma Evans | Marcus B St James |
| 1945 | Arthur E Manning | Stan James | HJ Ferguson | Bill Blakeway | Violet Linder | Mrs E Marsh |
| 1944 | Arthur E Manning | Stan James | HJ Ferguson | Bill Blakeway | Violet Linder | Mrs E Marsh |
| 1943 | Arthur E Manning | Stan James | HJ Ferguson | Bill Blakeway | Violet Linder | Mrs E Marsh |
| 1942 | Arthur E Manning | Bill Blakeway | HJ Ferguson | Bill Blakeway | Violet Linder | Mrs E Marsh |
| 1941 | Arthur E Manning | Bill Blakeway | HJ Ferguson | Bill Blakeway | Violet Linder | Mrs E Marsh |
| 1940 | Arthur E Manning | Les Takle | HJ Ferguson | Bill Blakeway | Violet Linder | Mrs E Marsh |
| 1939 | Arthur E Manning | HJ Ferguson | Bill Blakeway | Ted Amoore | Violet Linder | Mrs E Marsh |
| 1938 | Arthur E Manning | HJ Ferguson | Bill Blakeway | Ted Amoore | Violet Linder | Louise Winthrop |
| 1937 | Arthur E Manning | Malcolm Thomas | Bill Blakeway | Ted Amoore | Violet Linder | Louise Winthrop |
| 1936 | Sir Alexander Young | Malcolm Thomas | HB Baker | Ted Amoore | Violet Linder | Louise Winthrop |
| 1935 | Sir Alexander Young | Hugh Morton | Malcolm Thomas | Ted Amoore | Maisie Heweston | Maisie Heweston |
| 1934 | Dame Sybil Thorndike | Malcolm Thomas | HD Baker | Ted Amoore | Maisie Heweston | Maisie Heweston |
| 1933 | Dame Sybil Thorndike | Malcolm Thomas | HD Baker | Ted Amoore | Maisie Heweston | Maisie Heweston |
| 1932 | Dame Sybil Thorndike | Malcolm Thomas | HD Baker | Ted Amoore | Maisie Heweston | Maisie Heweston |